MATHEMATICS
Singapore Mathematics Framework
The school's Mathematics Programme is guided by the Primary Mathematics Syllabus (MOE 2013). The syllabus aims to enable all students to: 
acquire mathematical concepts and skills for everyday use and continuous learning in mathematics;
develop thinking, reasoning, communication, application and metacognitive skills through a mathematical approach to problem-solving; build confidence and foster interest in mathematics.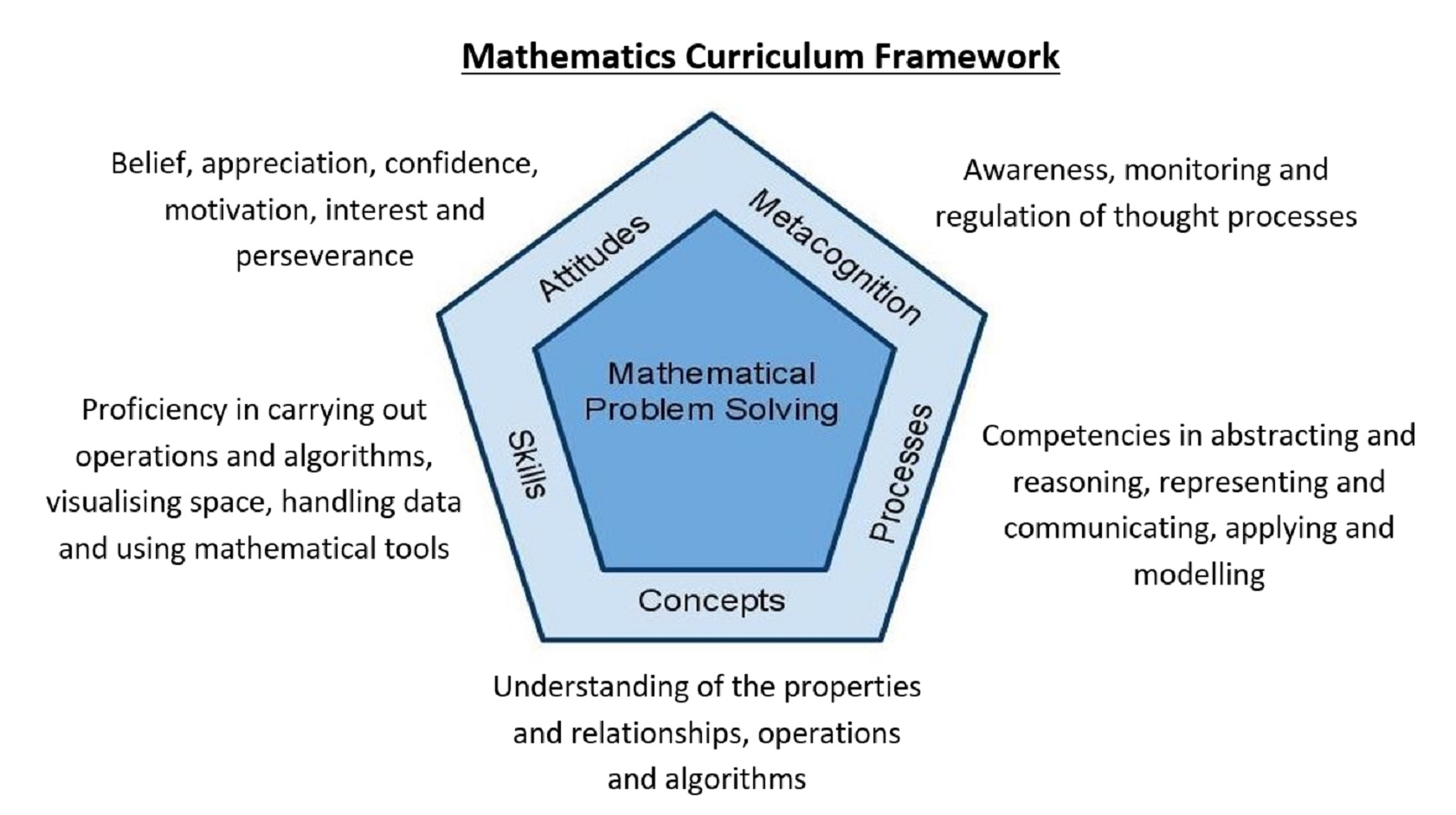 3 Key Principles in Mathematics Education
The department uses 3 key principles and 3 phases of learning to plan, organise and deliver the lessons, programmes and activities.
Principle 1
Teaching is for learning; learning is for understanding; understanding is for reasoning and applying and, ultimately problem solving.
Principle 2
Teaching should build on students' knowledge; take cognizance of students' interests and experiences and engage them in active and reflective learning.
Principle 3
Teaching should connect learning to the real world, harness ICT tools and emphasise 21st century competencies.
3 Phases of Learning (Pedagogy) in Mathematics Education

* Readiness to learn
* Engagement in learning
* Mastery of learning

Core Teaching and Learning
P1 – 6 mathematics curriculum aims to build strong foundation in mathematical knowledge, concepts and skills in our students through activity-based lessons, direct-learning and inquired-based learning.  Students are given concrete experiences to help them develop a sense of numbers, make connections and become better problem solvers.  
Learning Programmes that support diverse learners
P1 – P4 Learning Support Programmes (LSM Programme)
Learning Support for Mathematics (LSM) is an early intervention effort for students who need additional support in acquiring basic numeracy skills when they enter Primary 1. Originally intended for Primary 1 and Primary 2, the support has now been extended to Primary 4. 
The Key Math activities that promote joy of learning can be found in the table below:
| | |
| --- | --- |
| Activity | Levels involved |
| Learning stations/ corner | P1 & P2 |
| Math Whiz Competition | P1 to P6 |
| Math Board Games | P3 to P6 |
| Math Olympiad Programme | P4 to P6 |
| Math Competitions | P4 to P6 |
P3 – P6 Improving Confidence and Achievement in Numeracy (ICAN Programme)
The ICAN programme is a collaboration between schools and MOE to support students using intervention strategies and models that are guided by research to tackle the 4 key issues of learning gaps, language, motivation and memory.
P4 – P5 E2K Mathematics Programme (Selected students)
Math E2K is a Mathematics enrichment programme for upper primary students who demonstrate interest and ability in Mathematics.  It aims to foster independence in mathematical thinking skills, as well as nurture other important 21st century competencies such as resilience and resourcefulness, critical and inventive thinking, and effective communication skills.
Key Math Activities that promote joy of learning
P1 – 2 Math Learning Station/ Corner
P1 – 2 Math Games Day
P1 – 6 Math Whiz 
P3 – 6 Math Board Games
P4 – 6 Math Olympiad Programme
P4 – 6 Math Competitions
Useful Links
Educational Games for kids
Educational Mathematics Activities