SCIENCE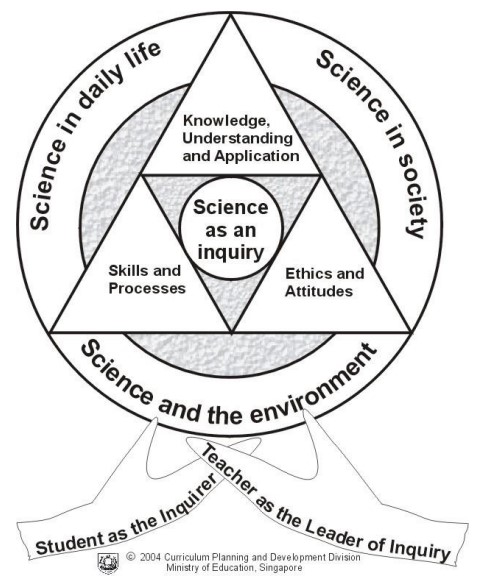 Bendemeer Primary School follows the Science Curriculum Framework that guides all schools in the design and enactment of the school-based science curriculum.
Through the inculcation of the spirit of science inquiry, the department envisions that all students will embrace Science as a "way of knowing" about the physical and natural world around them based on experimentation and observations.  When students experience the inquiry-based science curriculum, they are exposed to the three integral domains of (a) Knowledge, Understanding and Application, (b) Skills and Processes and (c) Ethics and Attitudes. which are essential to the practice of science.
In Bendemeer Primary School, the science curriculum is planned based on the three aspects shown below (content, pedagogy and assessment), with each aspect linked to the others in a two-way manner.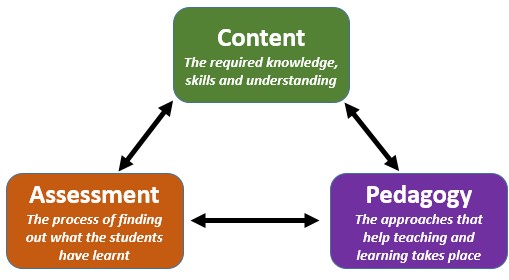 Pedagogical Approach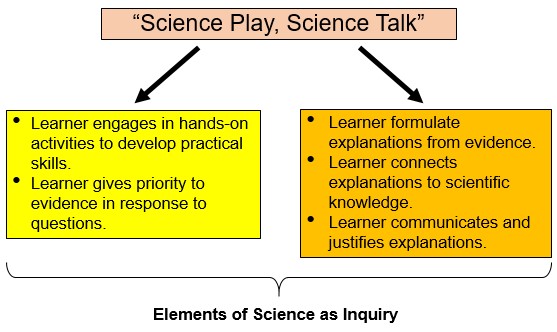 In delivering the science curriculum, the department leverages on the pedagogy of "Science Play, Science Talk". As shown above, this pedagogical approach is founded on the five elements of Science as Inquiry, highlighted in the Science Curriculum Framework.
Programmes
By adopting student–centric approach in our curriculum, pedagogy and assessment, the department strives to develop in our students the 21st Century competencies. Through the various programmes and activities planned by the department, students are presented with opportunities to use ICT tools as they collaborate and exhibit critical and analytical thinking skills. For example, through the hydroponics programme, students get to work with their classmates to plant and grow their own vegetables through the hydroponics and planting kits provided for them. Environmental activities are organized for students throughout the year in collaboration with the Environment Club and the Applied Learning committee. The students participate in the school's weekly recycling programme where they would recycle their used papers and plastic bottles. The school also commemorates World Water Day and Earth Day yearly by holding a host of recess activities. To further inculcate their love for their environment, pre-assembly talks are conducted by the Science teachers on a termly basis.
Resources
The school has two science laboratories that are fully equipped with apparatus and resources to facilitate the teaching and learning of Science. Science practical lessons are conducted in the two laboratories. To allow students to learn beyond the walls of the classroom, our school has a Science Garden and Science pond so that outdoor lessons can be planned for the students.
Useful Links
How Stuff Works - http://www.howstuffworks.com
National Geographic kids - http://video.nationalgeographic.com/video/kids/
National Geographic channel - http://video.nationalgeographic.com/video/national-geographic-channel
Discovery channel kids -http://kids.discovery.com/tell-me